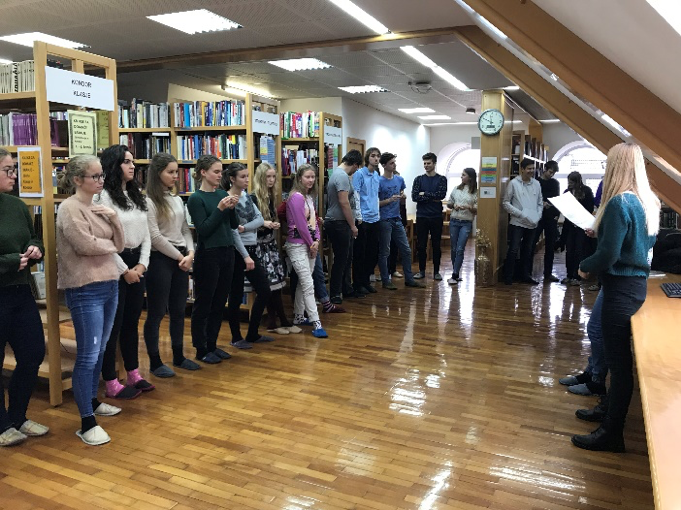 On 20thNovember 2018 we hosted our local activity with the purpose to promote Erasmus+ project P.L.A.Y. but mostly to encourage youngsters to get involved in international projects, to participate as volunteers at the P.L.A.Y. activities and overall act humanly and in a way to accept foreign youngsters that may be found in their local environment. The students in local high school, Gimnazija Novo mesto, welcomed us well, and told us through activities their stories as well.
Because it was snowing that day we could not do the activity outside, we stayed in the library and firstly played the game where everyone considers his role and he or she moves forward depending on how many or few rights he or she (the role) has. We found out that most of foreigners stayed behind locals and citizens who obtain much more rights than the others.
After the game we discussed the differences, and the observations youngsters have regarding their and other people's behavior towards migrants and other foreigners. We encouraged them to help young migrants, to help include them in their local communities and later in society.
They agreed with our idea that sport is one of the best ways to make friends and to connect and welcome people. Furthermore, we have acknowledged that sport helps people to feel equal, and that your national background or beliefs do not define you while playing sport. Hence, we encouraged them to get involved in the P.L.A.Y. project as participants where they can practice and express themselves.