FOOTBALL IS FOR EVERYONE – EVENT!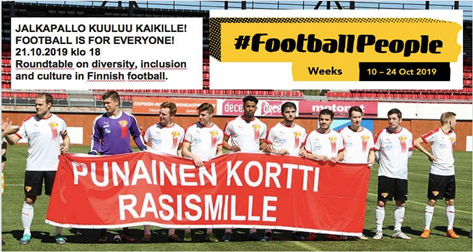 On 21st of October we organized a discussion and roundtable event together with PLAY -project, Show Racism the Red Card Finland campaign, FIMU and football club VJS. VJS is one of the biggest junior football clubs in Finland. VJS men's team played last season in the Finnish second division (in the picture). The event was open for everyone and the aim was to discuss how to promote equality, inclusion and life skills through football. We wanted to know about the challenges faced by especially the immigrant based families but also challenges of inclusion from the club's perspective. The event was really successful and we gathered some really good practices and suggestions for football and sports clubs in Finland.
The event started with opening words by the VJS executive director Kim Ekroos. After that Show Racism the Red Card project manager Ilari Äijälä introduced their work and co-operation with over 100 football clubs in Finland. The Show Racism the Red Card -project is a visual and educational campaign spreading the anti-racist and anti-bullying message in different sports. After that project coordinator Riitta Latvio introduced and disseminated the methods of the PLAY project. P.L.A.Y. Project has been training, mentoring and supporting youngsters (YAGs) voluntary activities in sport that further social inclusion, responsibility and equal opportunities.
After presentations we had a roundtable discussion with the executive director of VJS Kim Ekroos, professional football player Ahmed Said Ahmed (who is now the captain of the Somali National Football Team) and Aleksi Kangasniemi, who works for EPS (Espoo Football Club) and cultural interpreter Mustafe Hirsi, who works for VJS. Cultural interpreter works as a link between the club and families helping immigrants and their families to adapt and integrate into club's activities. Cultural interpreter is a new three year project funded by the Ministry of Education & Culture and the Finnish Football Association. Discussions with the panelists and event participants lead to some suggestions and important insights for developing the covernance of sports clubs.
SUGGESTIONS AND INSIGHTS:
1) Important to get more immigrants into the club activities (as coaches, as volunteers, as participants, club officials etc).
lack of communication have caused a lot of cultural misunderstandings (for example the children who go to Koran school on Fridays can't attend trainings).
that is why cultural interpreter and mentoring programs are considered very useful.
raising awareness is not enough, immigrant families need to feel themselves really welcomed and club's should organize concrete club actions especially for minority (ethnic, LGBTQ, disabled) groups.
immigrant youngsters and families should have the possibility to practice responsibility gradually (peer tutoring and mentoring programs?)
2) There should be more parent nights or family acitivities organized by the club (where parents and also families can meet each others).
is there a possibility to organize activities to parents while their children are in training?
3) Finnish football clubs have been getting more professional in recent years (more full-time coaches and club officials) but downside is that the sense of communality has decreased while the families' costs have increased considerably.
parents leave their children to professionals and are not anymore involved in club's volunteer work.
should there be more opportunities for low income families to cover hobby costs with small work for the club?
more opportunities to recycle children's sportswear (boots, clothes, etc.).
4) Clubs should offer youth more paths to professionality (but also to grassroot sports!).
many immigrant families have a lot of children and usually they can't afford to pay many hobby costs – usually the oldest children (14-17 years old) of the family have to stop because their smaller siblings are starting their hobbies
youth dropout in sports is a big challenge in Finland (if a young person does not have immediate success in sports, he/she usually quits easily).
sports and volunteer work can also help young immigrants (or youth in general) to get work experience and important social networks for the future
5) More cultural competence for sports clubs (more education, more possibilities)
cultural interpreter is a really good innovation.
question of ownership: immigrant families need to see themselves as subjects and not only objects. Projects, like PLAY! change people's attitudes towards immigrant background youth when showing immigrant youth running the activities and working in authoritative roles (e.g. an instructor).
6) The values of inclusion, community and equality need to be visible in sports club's facilities.
values are more effective when they are visible and cognitively accessible.
promotes more discussion about how to behave properly in sports.
clubs should promote (for example in social media) different kind of role models (especially social representations of minority groups) in their media and communication.