DESCRIPTION OF THE LEARNING UNIT
Description:
This lesson is part of the Entrepreneurial Skills unit. This lesson provides a general framework about what is the Entrepreneurial Competence Framework (Entrecomp), what is an entrepreneur and what are the basic competences. In addition, it explains how to transform the theoretical frame into a practical model in steps, by providing video-examples of it.
Learning Outcomes:
General Framework.
Basic competences of an entrepreneur.
How to teach entrepreneurial competences with sport.
Keywords:
Entrecomp
Entrepreneurial competences
Entrepreneurship in sport
How to follow this learning unit?
Read the learning materials of this topic, from a general framework into something more specific.
See the videos and materials and try to apply them into your sport context.
Background reading material
The Full Entrepreneurial Competence Framework (Entrecomp) research
SPECIFIC SPORT ENTREPRENEURIAL PROGRESSION
EntreComp Framework
For an introduction to the EntreComp framework, view a brief presentation of it here.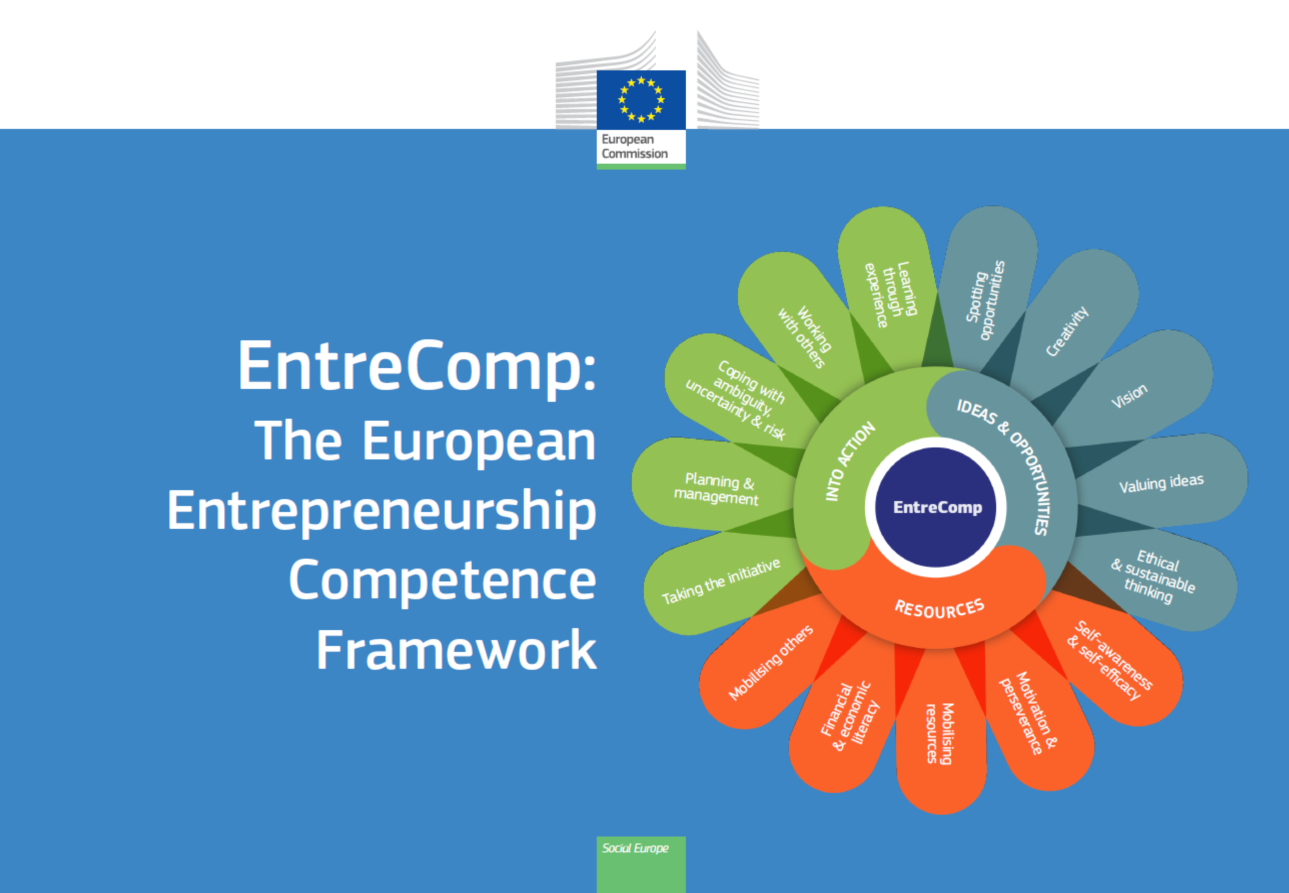 (Materials for studying the Framework more thoroughly, here.)
Read a description of how the EntreComp framework was applied and entrepreneurial skills were developed in PLAY! project, here.
Entrepreneurial Capacity building in Sport through planning a Sport Event
Entrepreneurial skills may be thought in Sport Clubs by planning and implementing a community Sport Event together.
Typical entrepreneurial capacity building might for example include the steps presented in the Levels 1-10 by questions and videos.
[Obviously, some levels might look different, the order of the levels be different, be fewer, have other directions; however, the logic is still the same] ,
In the videos youngsters plan the event, but children may take part in it e.g. by giving ideas for the event, communicating about it and also helping in the implementation of the event itself.
LEVEL 1
IDEAS
Your interests and talents and aspirations
What does the community need?
What could be a sport and economic success?
BRAINSTORMING
Which directions could we take?
What kind of events, organisation, activity?
What could be the steps to take, what do we need?
LEVEL 2
NETWORKING
Let's talk to people who knows, who have experience
Who might give support and be interested?
What kind of resources can we rely on or create?
What do the potential users have to say?
CONSULTANCY
What about knowledge and information?
Let us get advice from experts: sport, organisations, financial, technical?
LEVEL 3
PROJECT
Now, let's try to describe and design our ideas in the form of a project, in the form of a mission
We might need help to do this – and people to review
DESIGNING
Let's design the actions to take, the steps, the further mission levels: how do we get there?
Again, we might need some reviewing from out network
LEVEL 4
ALLIANCES
Let's show our project and mission to key stakeholders in the community that we need to support us
Let's bring them together, if possible – or talk to them one after another and then bring them together
COMMUNITY
Are we doing something useful to the community?
If so, let's explain this to the community; perhaps they will show an interest and even support
What about outside the community: the region, European partners or similar initiatives in other countries (virtual communities)
LEVEL 5
FUNDRAISING
We need to find out how to raise the money: donations, , user payment, local funding, private investors, public support, crowd funding – or even European funding?
ECONOMY
We need s small business plan: Loans? Initial costs? Cash-flow?
Short-term / long-term – terms and conditions
LEVEL 6
ACTION PLANS
We can now turn the project and mission into an action plan: who will do what when, and with what result?
RESOURCES
The action plan needs to carefully estimate resources: people, support, time and costs
LEVEL 7
PROMOTION
Let's go public: let's show the full action plan to the community, including the virtual community
MOBILISING
We need to mobilize the resources and make them work together to start the project in practice – we need to create a strong driver team
LEVEL 8
ORGANISATION
Now we can start organizing the first actions to establish what we set out to do
LOGISTICS
We need to check simple but important things, such as time, space, participants, access, equipment, etc.
LEVEL 9
IMPLEMENTING
Let's do it!
PERFORMANCE
Let's show the public and the stakeholders that we are doing it, and doing it well
LEVEL 10
CELEBRATING
Let's celebrate mission completed through powerful events
NEW CHALLENGE
Mission completed: let take what we created to a new level = start at level 1
Mission failed: let's go back to level one and start again; something did not work